Ceramic Band Options
We offer a variety of Ceramic Band styles from standard to custom configurations. When selecting a ceramic heater, select a heater that best matches the wattage requirements – to decrease the frequency of cycling and temperature overshooting, and thereby increase the life of the heater. When installing a ceramic band heater to replace a non-insulated heater, decrease the total operating wattage by approx. 15-20 percent.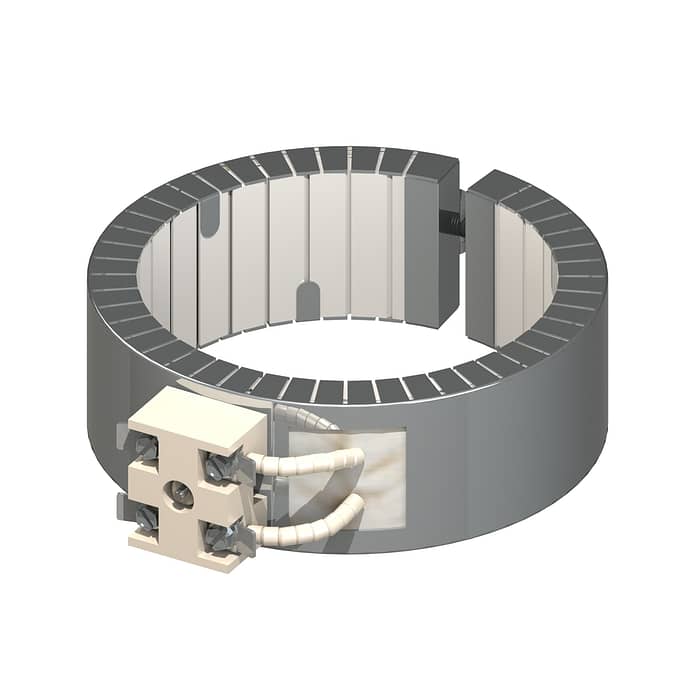 This Ceramic band style features protective ceramic beads (encasing the lead wires ) exiting the ceramic terminal box.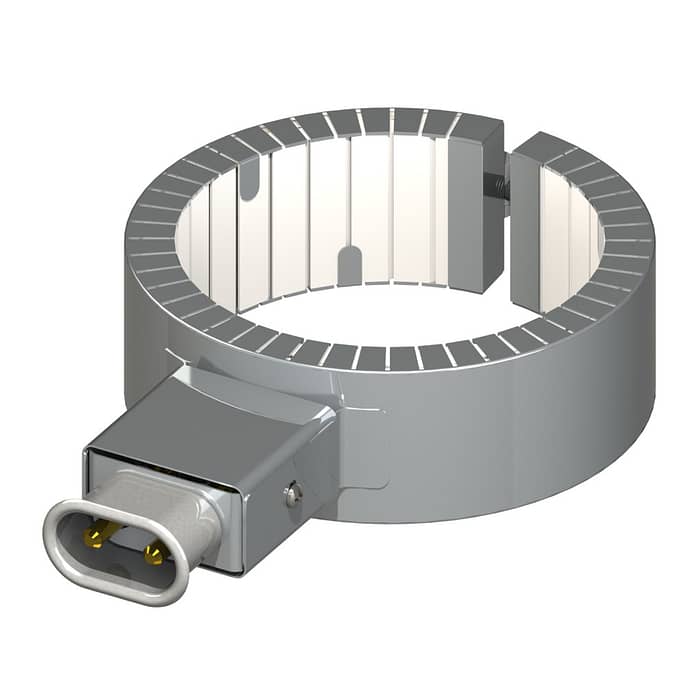 Ceramic Band heater with a Euro Plug (short for European) design, is an easy and safe application for applying power. This band heater design combines high temperature and the quick disconnect plug to eliminate live wiring and exposed terminals. When ordering Ceramic Euro Plug with Box – specify either a vertical or horizontal plug configuration
This Ceramic band heater includes fiberglass leads. The leads are covered and secured to the band by a spring relief component.
This Ceramic band heater variation bears a metal braid that provides significant flexibility and abrasion protection.
This Ceramic band heater style depicts fiberglass leads covered with a protective armor sleeve. The sleeve assembly is affixed to the band by a copper coupling.
This Ceramic band heater style can be constructed with the terminals positioned either Vertically (above) or Horizontally. This vertical terminal design is the most common termination. The terminal location is typically  180° from the gap.
This Ceramic band heater is designed with a Built-in Strap Welded Barrel Nuts construction. This design is a common heating solution, and can be paired with all termination variations.
This Ceramic band heater construction includes spring loaded clamps to allow flexing during thermal expansion of the metals.
The Ceramic Flange heater band is constructed with a bent outward Flange (Ears). This flange application is is available with all termination variations.
This Latch and Trunion variation is ideal for Ceramic Band Heater s exceeding 12 " in diameter, regarding absorbing thermal expansion, and for a secure installation on large bands.
The Ceramic Terminal Box band heater design offers excellent protection of the terminals. The knock out holes in the T-box, make allow ease of wiring. There are several lead options available for this T-Box style.
This Ceramic band heater is designed with the Holes variation, and does not provide insulation. The holes in the outer band allows for more efficiency when used with forced air cooling systems.