PLATE BANKS
Heating or Cooling
Plate banks are ideal for heating or cooling applications when a single plate is not able to meet the required thermal load. The advantages of a fully assembled plate bank are that all of the plates are connected using a single inlet and outlet connect, making the installation much easier than installing multiple single plates. THERMAPLATE plate banks can be configured in many arrangements and can incorporate numerous features that optimize integration and performance of the installed unit; this includes applications for new OEM products or direct replacement parts.
Plate banks are integrated assemblies which combine a given number of plates into one singular unit. Generally, all of the plates in a bank assembly are connected to common supply and return header.
Plate banks are available in many different arrangements and can be customized by the selection of:
Total plate count

Plate size

Plate thicknesses

Materials of construction

Header locations and connection types

Plate brace or mounting brackets
All of our plate banks are made with premium THERMAPLATE surfaces.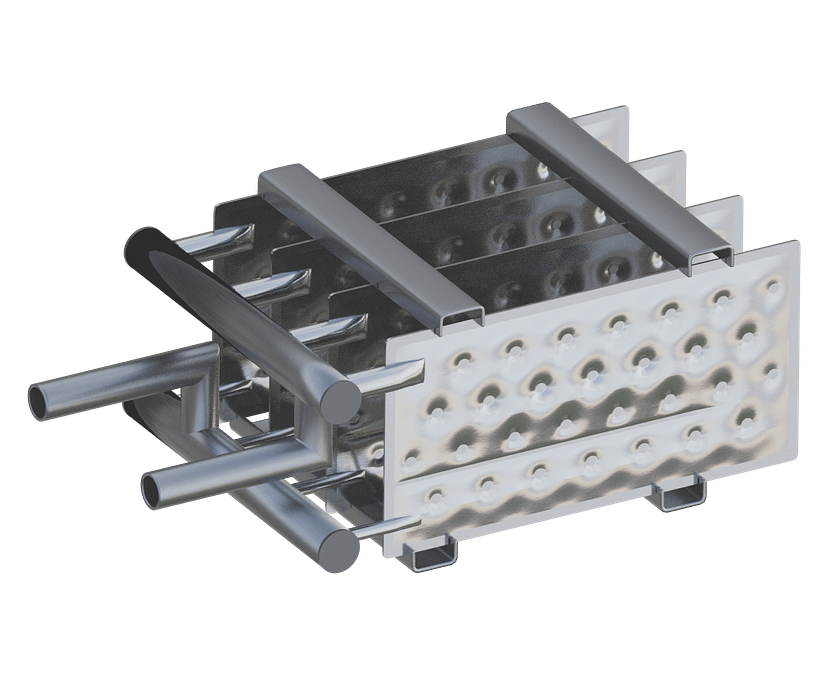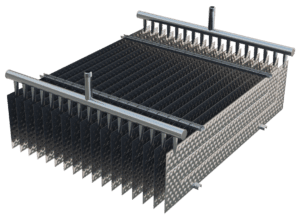 The immersion bank arrangement is the most commonly used configuration of the plate bank options. The simple construction is designed for simple submersion into a flooded liquid tank or body of water. 

Common Applications:
General heating or cooling applications

Geothermal applications 

Thermal storage and ice banks

Fluidized bed dryers

Thermal melting
Insertion style plate banks are plate banks which are mounted to the outer surface of the process equipment. This is achieved with an integrated mounting face plate, which seals against an opening in the process equipment. Depending on the size of the plate bank assembly an internal support or track roller system maybe required.

Common Applications:
Gas re-heaters

Contaminated air heaters

Fluidize bed dryers

Solids cooling and heating systems
Bayonet style heat exchangers are flange mounted plate bank assemblies. Bayonet style banks are commonly added to API vessels and storage tanks, where a suitable API style manway or large flange connection may be available. These assemblies are designed to fit through the opening of the mounting flange. Smaller units can be self-supporting and large assemblies may require an internal support.

Common Applications:
General heat and cooling applications

Suction heaters for viscous product storage tanks

Tank sump heating and cooling
DUCTED
BANKS
Ducted plate banks are most commonly used for heat recovery applications where heat can be recovered from ventilation lines. The integrated duct housing of this assembly simplifies the installation into an existing ventilation system. Duct transition sections are available for connection to round ductwork.

Common Applications:
Heat recovery from ventilation

Bulk solids heating, cooling, and drying

Particulate air cooling and drying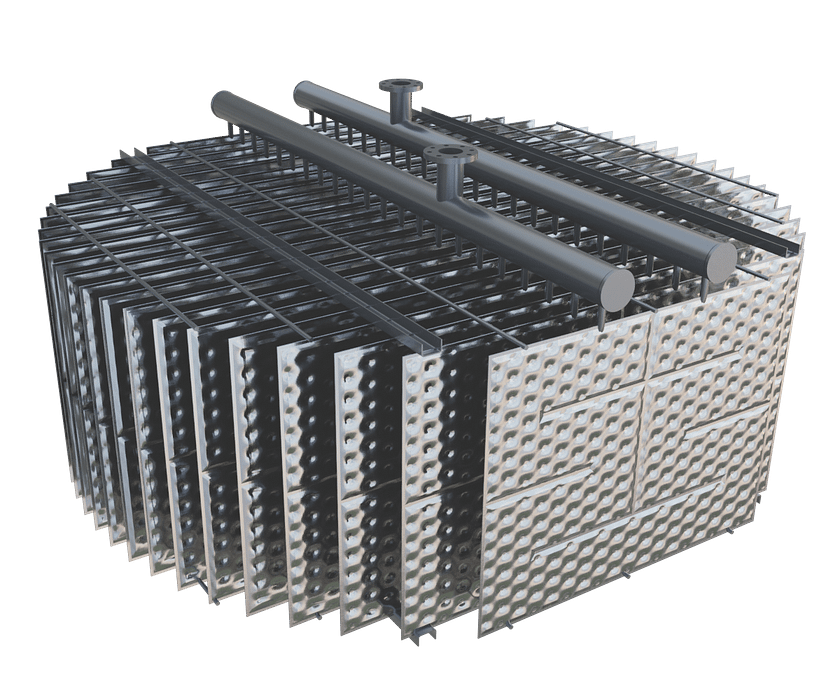 The versatility of the THERMAPLATE surfaces allows us to meet very complex design needs. Contact us with any special application needs.