Southeast Thermal Systems has partnered with TUTCO Heating Solutions Group to offer process air heaters. Tutco air heaters are used for drying, sealing, curing, flashing, sterilizing, and plastics welding applications. If you are looking for assistance identifying a product for your application or you need a modified solution, contact us to discuss your needs.
Stay up-to-date on electrification and the latest trends happening in the industry. Each month will feature a story on electrification along with on regular stories on products, trends, training and insights Stay up-to-date with TUTCOnnect each month for valuable content that will help you provide customers with the ideal heat solution for their applications. Our educational content provides easy-to-follow instruction on installation, wiring, and best practices that maximize performance and extend heater life.
TUTCOnnect Editorial Calendar highlights stories for January, February, and March
Don't miss any of the upcoming issues of TUTCOnnect. Download the latest editorial calendar to stay informed of upcoming issues and the feature stories on process and flexible heaters from TUTCO Farnam and TUTCO SureHeat.
Each issue includes a new Feature Video created to educate and inform customers on installation, wiring, performance and more.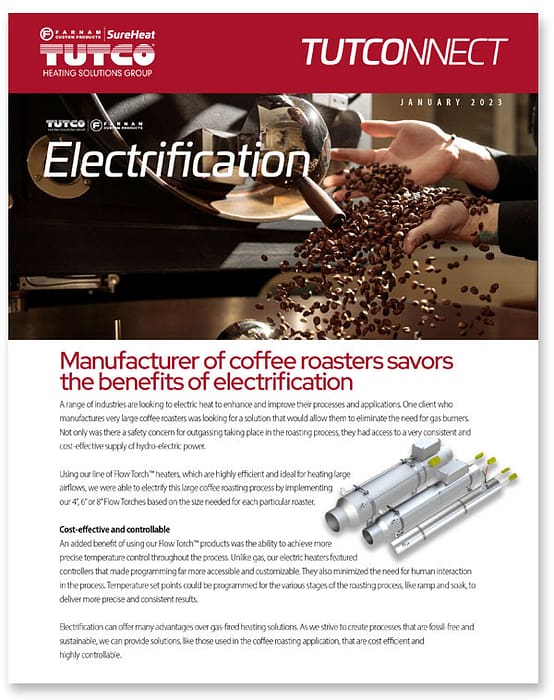 Electrification cures safety woes of webbing manufacturer
We developed a modified system that was customized to the specific needs of the application and electrified their process.
Featured Product: The benefits of our Closed-Loop Controller
Regardless of changes in airflow, the temperature is constantly measured to maintain processes and protect the heater.
The benefits of Over Temperature Protection (OTP)
This month's Feature Video highlights SureHeat's Over Temperature Protection (OTP) which protects heaters from downtime
Electrification cand handle the load on detergent application
SureHeat Jet Heaters provide benefits that htey could not achieve with gas and made for a far safer process..
Featured Product: Temperature Controllers
Electric air heaters are merely components of a well-balanced and long-lasting system. SureHeat temperature controllers minimize overshoot.
3D Printing Solutions for Plastic
TUTCO heaters are used in 3D printing applications for a variety of reasons. used to hold plastic print temperatures anywhere from 180°C to 260°C.
Electricty delivers value for pizza ovens.
TUTCO Farnam has created a variety of solutions for pizza ovens from custom to Flow Torch™ heaters.
Featured Product: Silicone Rubber Heaters
Silicone Rubber Heaters are durable industrial products with amazing properties. Resistant to many chemicals they are quick and precise.
Hot Air Tools
This month's Feature Video highlights SureHeat's Hot Air Tools. The compact size makes them perfect for single phase OEM applications.