Clamp-on plates
Convenient Installation – Fully Customizable
Clamp-on plates are a simple cost-effective solution to add external heating or cooling to an existing tank or surface. We are able to design our clamp-on jackets to fit most surfaces and with assistance of specially designed mounting hardware, they can be installed quickly with little to no site welding or equipment alterations.
Clamp-on plates can be constructed of either single or double embossed THERMAPLATE heat transfer surfaces. Each clamp-on section is shaped to fit the surface they are intended to be mounted to.
Each clamp-on section is equipped with a mounting lug which is designed to keep continuous tension or force on the plates, pulling or pressing them against the surface of the vessel. This continuous plate tension or force is achieved by specially designed mounting hardware that uses a spring to compensate for any thermal expansion or contraction movement during operation.
THERMAPLATE clamp-on jackets can be provided with ASME, PED, or CRN certification.
All jackets can be designed for any service – steam, thermal fluids, or refrigerants. To enhance the performance of a clamp-on jacket, we recommend the use of a heat transfer compound.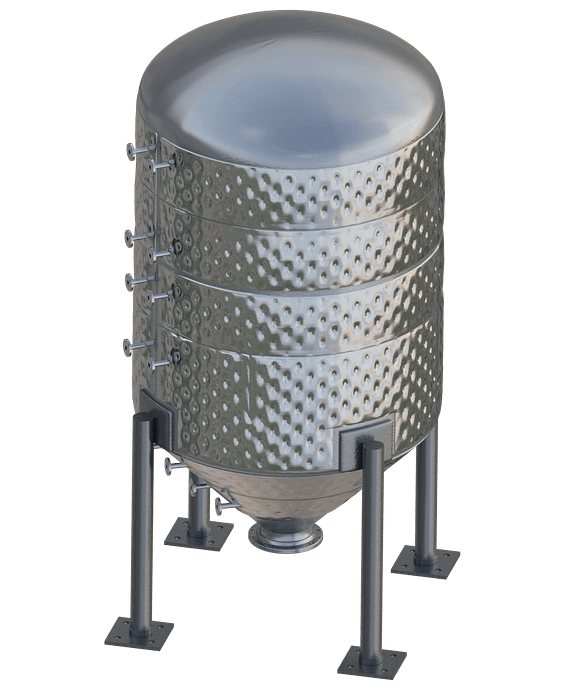 Curved clamp-on sections are generally used to wrap around the circumference of a round vessel. Each section of clamp-on jackets can be configured in any given width and can be assembled in multiple courses to cover the full cylindrical portion of a vessel.
FLAT SURFACE
CLAMP-ON JACKETS
Flat surface clamp-on plates are equipped with perpendicular mounting hardware allowing the plate to be pressed against its mounting surface. In large plate applications, additional mounting hardware will be located in the interior area of the plate to ensure full contact of the heat exchanger to the mounting surface.
CURVED CLAMP-ON JACKETS
FOR HORIZONTAL VESSELS
Curved clamp-on jackets can also be segmented and mounted independently with its own hardware.  This is useful in horizontal vessel applications or any application where the entire circumference of a given round vessel does not require jacketing.
CLAMP-ON JACKET
INSTALLATION
Clamp-on jackets are intentionally designed to be easily installed.
Questions about installation?