SCREW PLUG HEATERS
Screw Plug Immersion heaters are ideal for immersion into liquids and all types of oils, where space and connections are a problem. Tubular heater elements are brazed or welded in a brass, steel, or stainless steel screw plug. Ratings from 350 watts to 38kw and numerous variations and options are available. Pipe plug immersion heaters are generally used in small to medium size containers at pressures up to 3000 psi and are screwed directly through a threaded opening in the tank wall.
Standard Screw Plug Immersion Heater Sizes: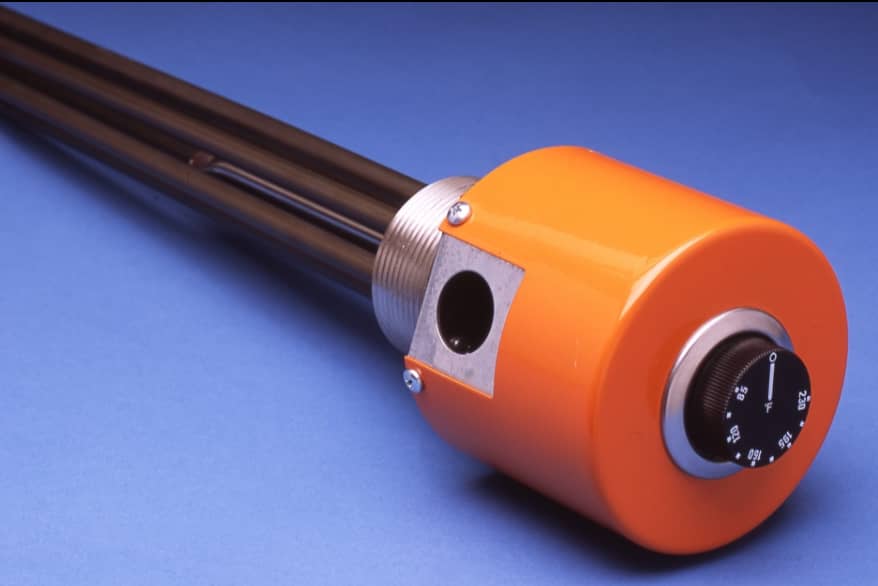 Incoloy® 840 sheath standard on all items-allows for the widest coverage of applications and temperatures, plus gives a margin of safety should there be any unknown corrosives or contaminants in the solution.
High purity MgO powder compacted to provide maximum heat conductivity and optimum dielectric Strength.
Type 'A' 80/20 resistance wire sized to provide lowest wire watt density for maximum life.
Fusion-welded junction between pin/resistance wire to provide a 360″ circumferential joint, giving superior strength and life.
Re-compacted bends to restore MgO density in bend areas.
Moisture sealed to prevent the entrance of contaminants during storage and service. Silicone end seals on heaters for oil, air and corrosive applications. Epoxy seals for water applications.
#10-32 terminals for wiring connections.
1″ and 1 ¼" NPT have plate terminals with screws.
2″ and 2 ½" NPT have threaded stud type.
Either style provides for easy re-wiring in the field.
Standard Nema 1 housings on all catalog items. Seamless deep drawn housings provide easy access to wiring.
Fixed conduit support bracket. Supply conduit is not disturbed when cover is removed.
Welded construction between elements and plugs on steel and stainless steel headers to give maximum corrosion protection and strength at elevated temperatures. All welds are hydrostatically pressure tested for leaks.
Silver braze construction on elements with brass plugs.
Spacer supports on multiple element units where immersed length exceeds 18″. This feature prevents adjacent elements from touching and overheating plus allows for easier assembly and disassembly from the coupling.
Thermowells for existing or optional thermostats. 1 ¼" NPT have a 5⁄16″ tube to accept 1/4″ diameter bulbs. 2 ½" NPT have a 1/2″ tube for up to 3⁄8″ diameter bulbs
100% inspected for:

Dielectric or Hi-Pot between conductors and sheath.
Insulation resistance.
Wattage
Hydrostatic pressure testing completed on screw plug heaters also ensures the sheath is defect-free.

All NEMA I and NEMA 4 Housings are CSA certified.
UL & CSA Recognition on elements