Mineral Band Heaters
Mineral Band Heaters can operate at sheath temperatures of up to 1300° F continuously, depending on the diameter, width and application. The interior of Mineral Band heaters are manufactured with ceramic tape, Nichrome wire and high temperature ceramic cement. Mineral Band heaters responds quickly to applications that require high temperatures and high watt densities. All moisture is removed from the mineral band heaters by our baking process of 850° F for 8 hours. We have included a small profile termination on models PWB1 and PWB2 for those applications with restricted space.
All of the Mineral Band Heaters are clamped down with an 18 gauge stainless steel strap to reassure there is no air gaps between the barrel and heater which improves band heater performance. Both the outer and inner shell is manufactured with 3042b stainless steel channel sheet metal providing a compressed process while forming the heaters. Mineral Band Heaters are manufactured in a variety of electrical termination styles and can be manufactured with holes.
Availble CSA, UL and/or CE approved
.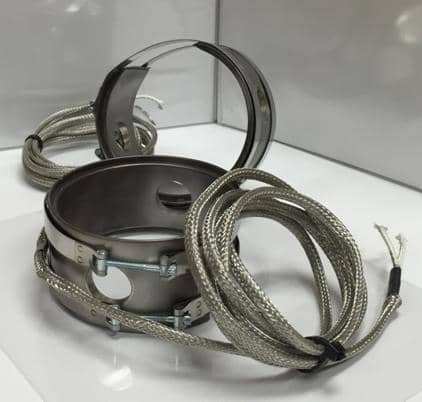 Specifications:
Sheath temperature: up to 1300° F
Maximum watt density: 100 watts/sq. in. depending on diameter and width.
Clamping Methods:
Independent or full strap
Spring-loaded barrel nuts
Holes:
Holes
Adaptors and fittings
Construction:
1 or 2 piece construction
Expandable
Partial coverage
Exterior material: stainless steel
Interior material: Nickel chrome wire and ceramic tape
Minimum standard diameter: 1″
Minimum standard width: 1″
Electrical connections:
Post terminal
SS Metal braid
Armor cable
Ground post
Dual voltage
Fiber glass sleeve
Low profile cap
3 Phase
terminal housing:
Terminal box
Terminal block with ceramic block
European plug
European plug with terminal box
Ceramic post covers
Brass cap for heater with different angle lead exits